Frequently Asked Questions
Samuel Langhorne Clemens, the future Mark Twain, was born in Florida, Missouri about 40 miles from Hannibal on November 30, 1835.
Sam Clemens, the future Mark Twain, lived in Hannibal from 1839 (age 4) to 1853 (age 17).
Yes, Sam Clemens was one of seven children. The family of John Marshall and Jane Lampton Clemens included Orion, Pamela, Pleasants Hannibal (died in infancy), Margaret, Benjamin, Samuel, and Henry.
Mount Olivet Cemetery has the graves of Mark Twain's parents, John Marshall and Jane Clemens; his brother Henry Clemens; and his brother Orion Clemens and Orion's wife, Molly.
John Marshall Clemens operated a general store in Hannibal and later clerked in stores. He was elected Justice of the Peace and held court sessions.
He attended school until shortly after his father died. Then was apprenticed to a newspaper at age 12. His formal schooling was through what we call the fifth grade.
Mark Twain died on April 21, 1910, at age 74.
He is buried in his wife's family's plot at Woodlawn Cemetery, Elmira, New York.
Samuel and Olivia Clemens had four children, a boy Langdon who died in infancy, and three girls, Susy, Clara, and Jean.
On the Mississippi River, a MARK was six feet and TWAIN means two. The term MARK TWAIN means twelve feet of safe water for steamboats.
No. There are no living direct descendants of Mark Twain. He had only one grandchild. Clara had a daughter named Nina. While Nina did get married, she had no children.
Tom Sawyer, Becky Thatcher, Huckleberry Finn, Aunt Polly, and other characters from The Adventures of Tom Sawyer were inspired by real people in Hannibal but are fictional characters.
No. In December 1906, he wore a white suit while appearing before a congressional committee regarding copyright. He did this for dramatic emphasis. Several times after that he wore his white out-of-season for effect. He has been portrayed as the white-haired gentleman in the white suit, but this was only sporadically at the end of his life.
The real Samuel L. Clemens signed his real name on documents and many letters. He also signed his pen name Mark Twain when autographing items and some letters.
From the late 1890s into the 1920s, there were several sets of Mark Twain's works produced, generally 24-27 volumes in a set. Clemens wrote out an endorsement that was printed on a flyleaf of every volume of some sets. The endorsement reads:
"This is the authorized Uniform Edition of all my books. Mark Twain."
Here are pages from two different sets:
Author's National Edition
Red Binding
Harper & Brothers
Author's National Edition
Green binding – another printing
Harper & Brothers
If you have one of these volumes, this is a reproduction and not a genuine signature.
Here is an example of a genuine autographed book by "Mark Twain."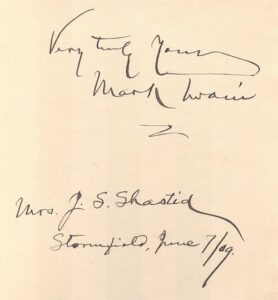 When signing letters, S. L. Clemens is often used. Here are two examples: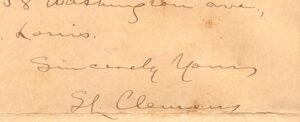 If you have a book or letter you believe is signed by either "Mark Twain" or "S. L. Clemens," the museum does not authenticate such items. However, we may be able to help you find out whether your item is genuine. Contact Henry Sweets by email or call 573-221-9010 ext 405.
The first cabins at Hannibal were constructed and the community founded in 1819 by Moses Bates. Hannibal was chartered as a city in 1845.
In 1935 Hannibal celebrated a yearlong anniversary of Mark Twain's 100th birthday. The lighthouse was constructed to shine a beacon over the festivities. It was never a navigational lighthouse. The original lighthouse was replaced in the 1960s and refurbished in 1994 and a new lighthouse was built in 2019.
The U.S. Census reports 1,024 people in Hannibal in 1840; 2,050 people in 1850. The family left in 1853. By 1860, Hannibal's population was 6,505.
Pilasters are the tall flat columns on the outside of the building, a distinctive architectural feature.
It is my belief that nearly any invented quotation, played with confidence, stands a good chance to deceive.